Fort Valley UMC celebrates 175th church anniversary | News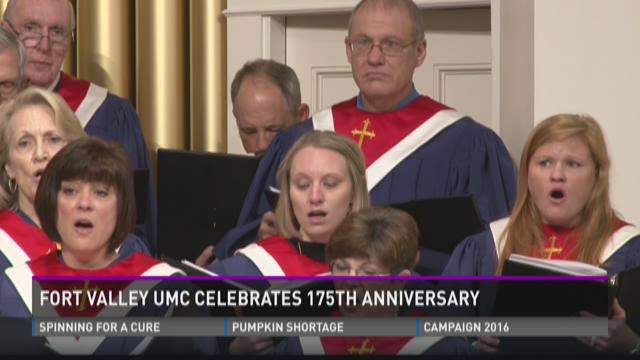 We want to wish a very special happy birthday to Fort Valley United Methodist Church, but we wouldn't want to be in charge of the candles.
The church is celebrating its 175th anniversary, making it older than both Fort Valley and Peach County.
"Fort Valley Methodist has, for generations, been a church that included many community leaders, business leaders.," says The Rev. Doug Mays, senior pastor of the church. "The treaty with the Creek Indians ceding this land to the state of Georgia, the ink was hardly dry on it when the Methodists established this congregation."
Church historian poured over old church records in anticipation of the anniversary.
"I found out that I had a great, great, great uncle who was a pastor here back in the 1870s and he only lasted one year, because the conference notes say that they requested he be moved because of too much levity in the pulpit," he laughs. "In other words, I guess old Uncle Peter must have been something of a comedian for 1870s. I'd always wondered why he didn't last but a year here, but too much levity in the pulpit, that crowd wouldn't have been happy this morning, would they?"
The majority of the service was lighthearted, with member sharing memories and stories from the church.
"A church, really, is about people. It's not about buildings," says Adams. "I think that what is more remarkable than a bunch of old buildings is that there's been a group of people in this community serving God in the way that they do through the Methodist Church for nearly two centuries."
"You know, you didn't think about stuff like that. You know, it just always had been and you take that for granted, that it always has been, so where would it go?" asks Bill McGehee, who says he's been a member since about 1950.
"When you grew up with something, at the time, you didn't know exactly what it was you were growing up with. And over the years, I've thought about the term church home," he says. "When you celebrate anniversaries or look back on things, it brings up memories that made it, instead of just being an institution it made it a home, which is a really special place."
Reverend Mays has only been the senior pastor of Fort Valley UMC for a few months, but he says he already has a feel for the congregation.
"I think it's an opportunity to remember from where we've come and be renewed and revitalized, but to be reminded that we've still got a job to do," he says. "This is a day we've celebrated and enjoyed, but I trust its real effect will be what happens now and in the future in this community."
Adams says there's name for a 175th anniversary, Terquasquicentennial.