Bond denied for Fort Valley rape suspect | News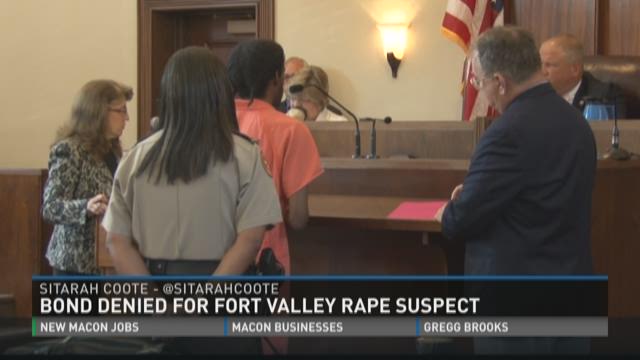 The man accused of a series of rapes and break-ins in Fort Valley will remain in jail for now.
Judge Tillman Self today denied bond for Darrell Ross.
Prosecutor Cindy Adams argued against bond during the hearing, saying that Ross was arrested for burglaries twice before in 2007 and 2009, and was on probation from a 2009 case.
His public defender, Bill Phillips, said Ross denies all the charges against him, and that Ross believes the real rapist is still free.
According to Chief Lawrence Spurgeon, there have been no rapes reported since Ross was arrested, and the number of break-ins that have occurred are low.
Subrina Ross, the suspects mother, says her son has committed burglaries in the past, but she doesn't believe her son is responsible for the rapes that were reported in April.
"I know my son. No, he ain't do no crime like raping nobody," said Ross, "My son lived on this earth 28 years. [He] ain't never harmed a flea. I'm not [going to] believe that."
Ross remains in the Peach County jail facing 19 charges, including rape, home invasion and aggravated assault. If convicted of those charges, he could face life in prison.