Preparations begin for the Ga. Peach Festival | News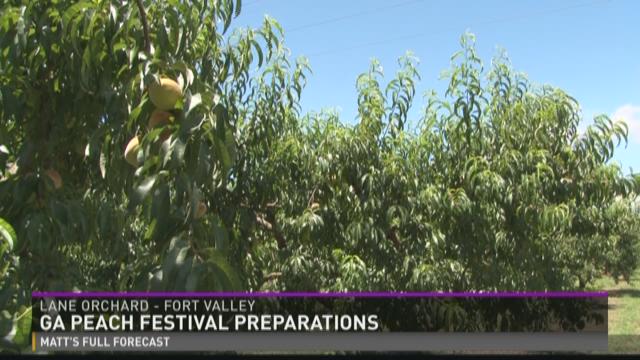 With countless pounds of peaches already harvested, Peach County and surrounding orchards are gearing up for the annual Georgia Peach Festival.
The annual Georgia Peach Festival kicks off Saturday morning bright and early with a parade starting at 9:30 a.m. Spokeswoman Sandee Khoury says it brings the community and Georgia farmers together.
"It's about the Georgia peach farmers," Khoury said. "There are several different growers in our area that produce approximately 83 percent of the peaches in Georgia."
Khoury says the festival celebrates the boom that these orchards provide to the community. The festival has many activities all day long for adults and children.
From the Kiwawans pancake breakfast in the morning, to the parade through downtown Fort Valley. A highlight for many, is a taste of their legendary cobbler which is 11 by five feet and eight inches deep.
"The worlds largest peach cobbler will be ready at 2:00, and they start at 2:00 tomorrow morning preparing it," Khoury says.
Kids can enjoy the Peach Beach in front of the entertainers grandstand while adults enjoy vendors. This peachy event wraps up with a concert and fireworks display just before 10 p.m.
"The band is the Soul Purpose band," Khoury said. "They're awesome. They play a little bit of R&B (and) a little bit of beach music. They got a little bit for everybody."
The event gets underway tomorrow at 7 a.m. in downtown Fort Valley.
The legendary peach cobbler recipe:
75 gallons sliced fresh Georgia peaches
150 pounds of self-rising flour
150 pounds of sugar
32 gallons of milk
90 pounds of butter